Hello ladies! It's been a while since my last post and I'm back again to talk about fashion with you! First of all, the reason I was away for a while is that I'm a student again and I'm attending a fashion school to become an image consultant. It's been a very long way to be here, first of all, I kinda quit my job to pursue a new profession. But this post is not about how I got here, it's about what did I learn in couple of weeks at a school. For example, how to calculate the body shape of the person or determine the type of the silhouette and give the corresponding tips.
Well, you must know that one can never determine the body shape basing only upon a picture or in distance. The shoulder, the hips and the waist measurements must be taken accurately in order to determine if the person's body shape is A, V, O, H, X or 8. The silhouette on the other hand, can be defined easily: tall, short, curvy or skinny, etc. In this post I'm going to share three looks that I suggest for three celebrities judging only on their body silhouette. Here we go!
My number one is the beautiful and sexy Kim Kardashian.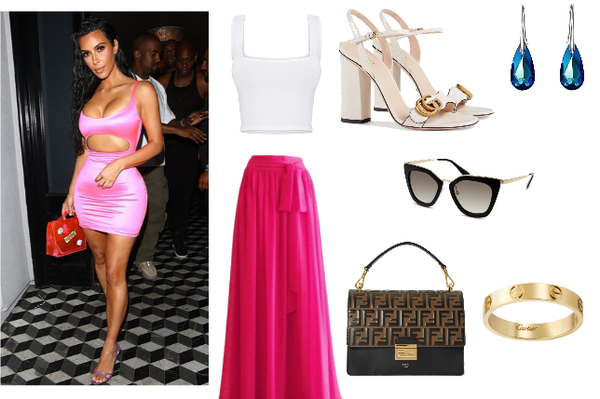 She has a nice curvy body with large hips, shoulders and a bust. The waistline is very defined and I recommend to highlight it as much as possible as it's one of the most attractive parts of her body. As there are some volumes in the bust and hips, this kind of body shape must be prolonged visually in order to make it look taller. For example, she could wear a white square-neck top to make the neckline longer. Then in order to contrast the waistline, I added a fushia maxi flare dress which will create a long vertical line from her waist down to the ankles and make her taller.
Do you like this every day casual chic outfit for Kim?
The next beautiful and talented celebrity that I'm going to dress up is Emma Stone.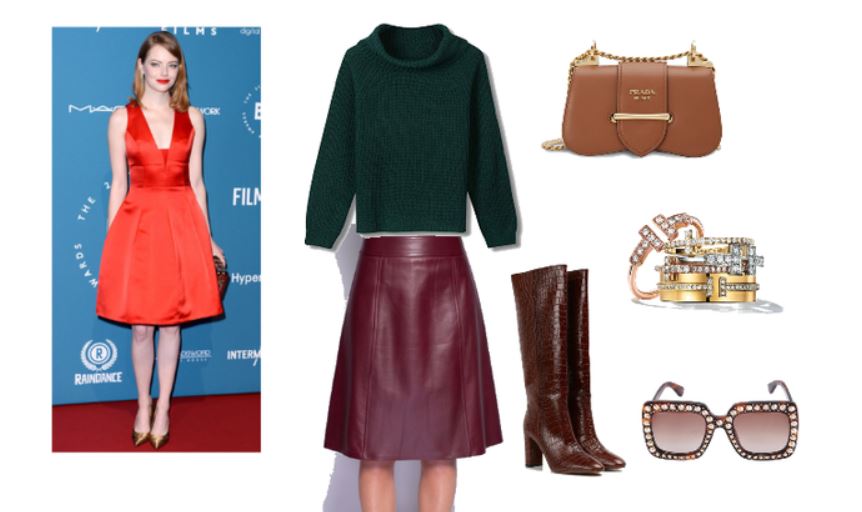 For this redhair beauty I decided to go with dark colors in the top of the body with a green wool turtleneck sweater which is slightly oversize for her so it will cover up her square shoulders and add some volume to the bust. Also a plum leather trapeze skirt accessorized with leather snakeskin knee-high boots, a small purse with a chain, square sunglasses and several golden rhinestone rings. What about this outfit? Don't hesitate to leave a comment if you need more explanations of of the items that I chose!
And finally the third lady that I'm going to talk about is Charlize Theron.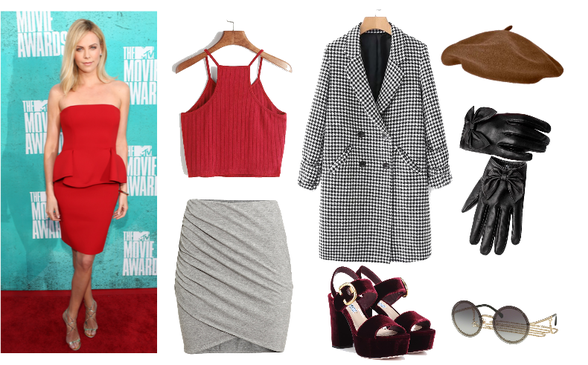 In order to give some volume to the bust and make your breast look bigger, count on turtlenecks, high necks, halter necks, round necks and boat necks. In two words, every kind of neckline that will cover that body part and create a volume visually. Add some horizontal stripes, ruffles, bows on the shirt or go with a jabot to be sure to draw all the attention to the bust which will look bigger. For the beautiful Charlize Theron I'm suggesting a halter neck red top and a grey draped skirt. To complete the look I'm adding a double breasted houndstooth coat, burgundy velour sandals with horizontal stripes, black leather gloves, chain sunglasses and a beret to make this look even more chic.
So girls, tell me which one is your favorite outfit and why! I would love to hear from you and I'll be back soon!
See you 🙂